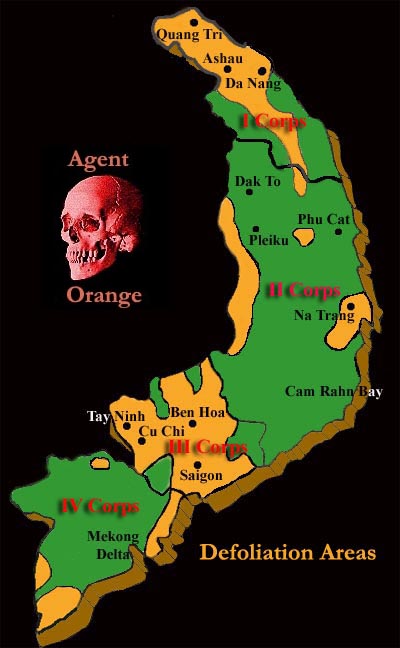 Due to the fact enemy activities (along with food and weapons caches) were hidden under triple-canopy jungle, it was decided a useful first step in Vietnam might be to defoliate certain areas deemed likely to promote this activity. This was especially true of growth surrounding both large and small bases and the Mekong Delta area. Early in the initiation of this tactic it was dubbed "Operation Ranch Hand" and it eventually expanded defoliation throughout the countryside of Vietnam. American corporations such as Dow Chemical Company and Monsanto were given the task of developing herbicides for this purpose.
One of the most controversial aspects of the U.S. military effort in Southeast Asia was this widespread use of chemical defoliants between 1961 and 1971. These chemicals continue to change the landscape, cause diseases and birth defects, and poison the food chain. The defoliants, which were distributed in drums marked with color-coded bands, included the "Rainbow Herbicides"—Agent Pink, Agent Green, Agent Purple, Agent Blue, Agent White, and, most famously, Agent Orange, which included dioxin as a by-product of its manufacture. About 12 million gallons (45,000,000 L) of Agent Orange were sprayed over Southeast Asia during the American involvement. A prime area of Ranch Hand operations was in the Mekong Delta, where the U.S. Navy patrol boats were vulnerable to attack from the undergrowth at the water's edge.
Helicopters initially sprayed chemical defoliants in the Mekong Delta, South Vietnam. In 1961 and 1962, the use of chemicals to destroy rice crops was authorized. Between 1961 and 1967, the U.S. Air Force sprayed 20 million U.S. gallons (75,700,000 L) of concentrated herbicides over 6 million acres (24,000 km2) of crops and trees, affecting an estimated 13% of South Vietnam's land. In 1965, 42% of all herbicide was sprayed over food crops. Another purpose of herbicide use was to drive civilian populations into Republic of Vietnam-controlled areas.
As of 2006, the Vietnamese government estimates that there are over 4,000,000 victims of dioxin poisoning in Vietnam, although the United States government denies any conclusive scientific links between Agent Orange and the Vietnamese victims of dioxin poisoning. In some areas of southern Vietnam dioxin levels remain at over 100 times the accepted international standard.
The U.S. Veterans Administration has listed prostate cancer, respiratory cancers, multiple myeloma, Diabetes mellitus type 2, B-cell lymphomas, soft tissue sarcoma, chloracne, porphyria cutanea tarda, peripheral neuropathy, and spina bifida in children of veterans exposed to Agent Orange. Although there has been much discussion over whether the use of these defoliants constituted a violation of the laws of war, the defoliants were not considered weapons, since exposure to them did not lead to immediate death or incapacitation. See "Defoliant Chart" and "Spraying Areas By Month and Year"